Halloween at the office; trick or treat?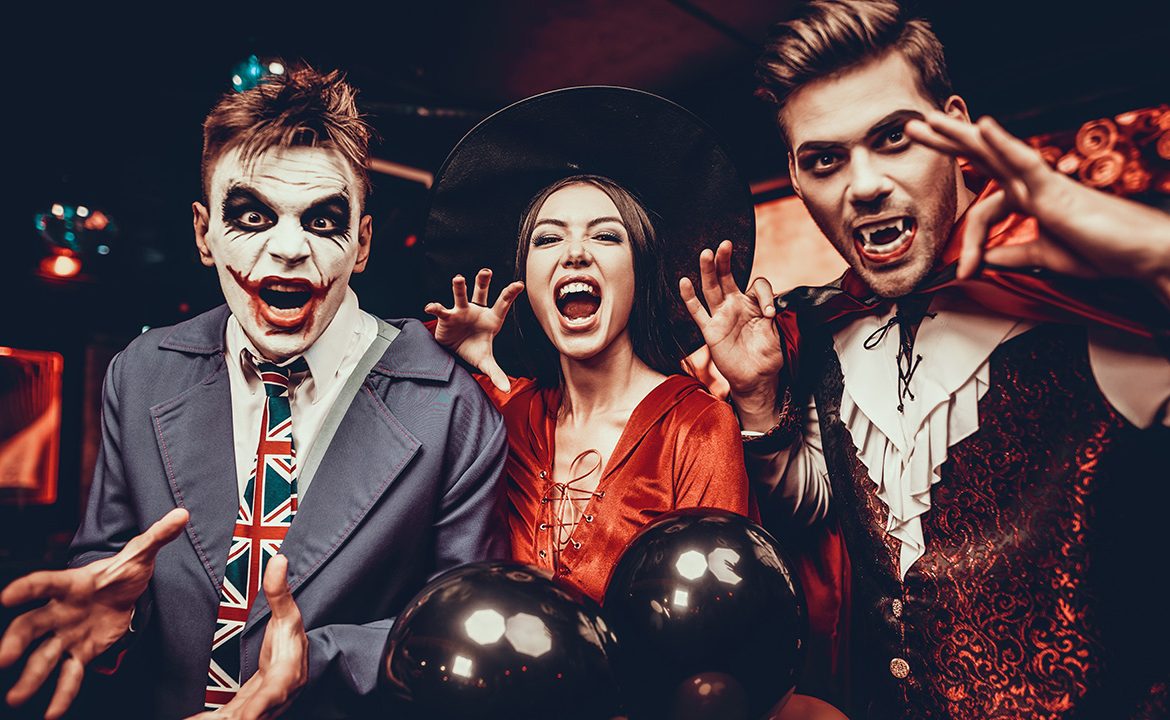 Halloween activities at work are increasingly popular. But, be advised: celebrating Halloween at work could haunt your reputation.
PARTICIPATE
Whether it's a shared meal or a costume themed day, opting-out could be perceived as a lack of affiliation to the team. If you are hosting visitors or have a videoconference planned, notify others in advance and adjust consequently.
YOU ARE AN AMBASSADOR OF YOUR EMPLOYER
No matter what day of the year it is, your costume and your behaviours must be in line with your employer's values, while being politically correct.
If you are the employer or the organizer, avoid exaggerations by sending an invitation with all of the gory details.
SAFETY ALWAYS COMES FIRST
Prevent spell invocations or having to complete an incident report by making sure that all decorations ensure a safe and healthy work environment for all.
Costumes and accessories must not prevent anyone from performing properly their role. Clothing should not be too bulky, revealing, tight and even too loose. Avoid dangling accessories that can interrupt the flow of your daily activities. Your disguise must pass the 7 to 77 test: you can wear it in front of a seven-year-old nephew or a seventy-seven-year-old grandma.
HAVE NO FEARS
Imitation weapons or illicit items can cause panic and should never be present in a work environment. Most companies forbid them. It would be pretty awful to be denied entry to work because of a fake gun.
Since you do not know the medical histories and traumatic incidents of your colleagues and clients, avoid scary jokes or pranks à la Psycho. They could end with a tragic call to 911.
CHOOSE YOUR POISON
Even behind the mask of your character, never forget that moderation tastes a lot better. A simple and healthy way to celebrate is to serve pumpkin muffins accompanied by hot apple cider, as an afternoon snack.
Other Halloween at work activities:
Ask employees to wear a hat that represents their favourite hobby.
Organize a 5 to 7 for your suppliers and customers with mini-consultations one-on-one with an astrologer.
Offer treats and the services of make-up artist to a children's hospital or daycare.
AVOID THREATS AND GOOSEBUMPS
When participating in a potluck, identify the ingredients of your contribution on an index card in front of your dish. Favour an orgy of sweets, without nuts or peanuts.
SAY PLEASE BEFORE CHEESE
Before taking photos: ask permission and inform team members where they will be published. When in charge, coach the team on picture and social media guidelines.
THANK
Thank the members of the organizing committee. Not having gratitude at work could be a… deadly mistake!
Finally, if you are the boss, allow employees to leave work early, so they may prepare their home and accompany their children on their trick or treat routes.
Translated from published post in mitsou magazine.com October, 24th 2018 (c) Julie Blais Comeau