Projetez confiance et crédibilité
Les Bonnes Manières enseignées par une vraie spécialiste !


Certifiée en étiquette professionnelle et protocole international
Trouver la bonne personne
pour représenter votre organisation, c'est trouver une perle rare, n'est-ce pas?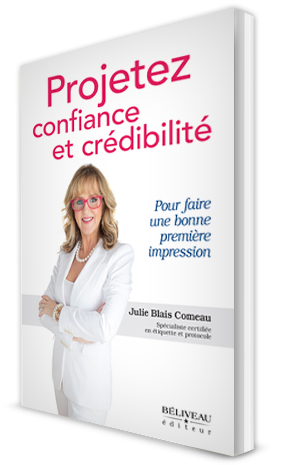 Achetez votre copie pour seulement
27.95$
Nous savons tous que nos paroles et nos gestes peuvent faire le tour de la planète, clic!, en un seul instant.
Le moindre faux-pas peut avoir un impact durable sur votre carrière et votre réputation.
Avez-vous déjà été paralysé en situation de travail? Avez-vous déjà crains de faire gaffe ou de commettre une bévue? Avez-vous déjà eu des remords professionnels? Si vous avez répondu oui à une de ces questions, Projetez confiance et crédibilité est pour vous!
Ce référentiel complet inclut les règles, ainsi que des conseils et des solutions pratiques pour :
Contrôler sa première impression
S'habiller pour réussir
Communiquer à l'ère technologique
Manger comme un diplomate
Réseauter au 5 à 7
Contribuer à la civilité au sein de votre équipe de travail
Que vous soyez, un jeune finissant, en quête de promotion ou nouvellement promu, Projetez confiance et crédibilité vous donnera l'intelligence interpersonnelle pour le succès professionnel.
Times have changed drastically in recent years and thereby changing the Business Environment in which we evolve in. This Reference Guide is an exact reflexion of this evolution and provides simple, effective and very useful solutions! All members of my family have read it and all have learned something! It's one to leave on your coffee table to read and reread overtime.

This book is a must read for anyone working with fellow humans. This book gives practical advice about simple ways to enhance your image and improve first impressions and more.